Natural Resources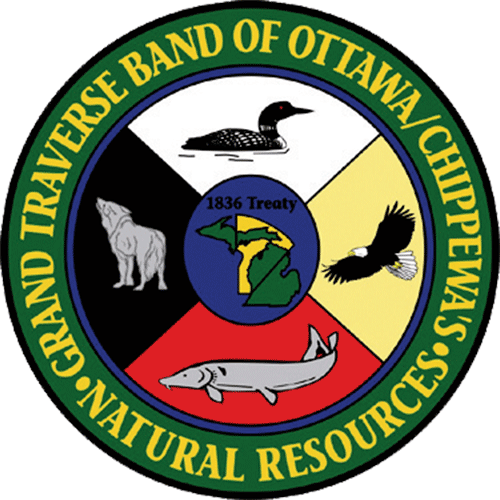 Grand Traverse Band
Natural Resources Department
3505 Putnam Road Peshawbestown, MI 49682
Main Line: (231) 534-7500
Fax: (231) 534-7576
Email: NRD@gtbindians.com
To protect and enhance the natural resources and environment entrusted to us by the Creator for managed and respected utilization by Anishinabek for past, present, and future generations.
Natural Resources & Environmental Committee
Vacancy Seats Open
Please submit your letter of interest to the Natural Resources Department.
For questions or concerns please call the Natural Resources Department at 231-534-7500.
Renewal Stickers 2021-2022
All GTB Hunting, Fishing, Gathering & Trapping Licenses expire April 1st
Please call or email the Natural Resources Department for your 2021/2022 renewal sticker.
Make sure your information is up to date, so you don't miss out on any of your Treaty Rights information and opportunities.
Note: We do not have a shared database with Membership so information will need to be changed with us as well.
Immediate Ban on Deer Baiting, Feeding, and Attractants
Due to the recent spread of chronic wasting disease (CWD) into the 1836 treaty ceded territory, the Grand Traverse Band of Ottawa and Chippewa Indians Tribal Council, upon the recommendation of the Natural Resources and Environmental Committee and the Natural Resources Department, has issued an immediate ban on the use of baiting, feeding, or other chemical attractants for deer. Information on CWD can be found at www.michigan.gov/emergingdiseases. Questions or concerns should be directed to the Natural Resources Department in person, or by telephone at 231-534-7500.


The Ottaway - A River Reborn
A Documentary Film featuring the Boardman Restoration Project and members of the Grand Traverse Band.
Click the Image above or the link below to view.
For Website go to- http://intotheoutdoors.org/topics/the-ottaway-a-river-reborn/
The Boardman Ottaway River Fish Passage Resolution
Natural Resources Department Services
Environmental
Soil Erosion Permits (On Tribal Land)
Surface Water Quality Analysis
Indoor Air Quality Inspection
Household Radon Test Kits
Glass, Plastic, Cardboard Recycling Bins located adjacent to Eagletown Market
Household Compost Bins
Phase I Contamination Surveys
Wetland Delineation
Inland
Produce, review, and implement policies and regulation booklets for Inland Hunting, Gathering, and Fishing Rights as recommended by the Natural Resources and Environment Committee
Issue Hunting, Fishing, Trapping, and Gathering Licenses and permits
Issue special use permits; disabled Tribal hunter permits, special needs subsistence/ceremonial permits, and road kill special use permits
Issue and manage the distribution of fish spearing and netting permits for specially regulated seasons/methods
Register inland boat/snowmobile/ORV
Issue Sleeping Bear Dunes National Lakeshore access passes
Issue Huron-Manistee National Forest access passes
Issue camping permits, firewood permits, among other permits authorizing Tribal Member resource use on USFS and State lands
Conduct annual License Holder Survey
Develop and foster working relationships with Federal and State agencies to improve management efficiency, develop resource use agreements, and improve productive communication with other resource management agencies
Conduct wildlife harvest monitoring; including deer check stations, furbearer registrations, and other special inspections of harvested fish and game
Conduct fisheries and wildlife habitat surveys, inventories, and assessments
Maintenance of the Tribal Repository/Exercise of American Indian Religious Freedom Act
GPS Mapping and Technical Assistance
Plant, Insect, and Fish Identification
Grant writing and administration for resource protection, restoration, and enhancement projects with particular emphasis on collaborative projects
Other
Public Outreach and Education
Scuba Diving (Advanced Open Water)
Underwater search and recovery
The Natural Resource Department provides this list of services to citizens. If you have any questions, please stop in or call us at 231-534-7500.
Natural Resources & Environmental Committee (NREC) Meetings Notice
Hunting Regulations 2009 (Current)
Hunting/Fishing/Gathering/Trapping License Application
GTB Elk Hunting Regulations 2021-2022