Pre-Release Viewing Party: Restoring Aquatic Ecosystems
September 8, 2022
5:00 PM
Boardman River Nature Center - Outdoor Pavilion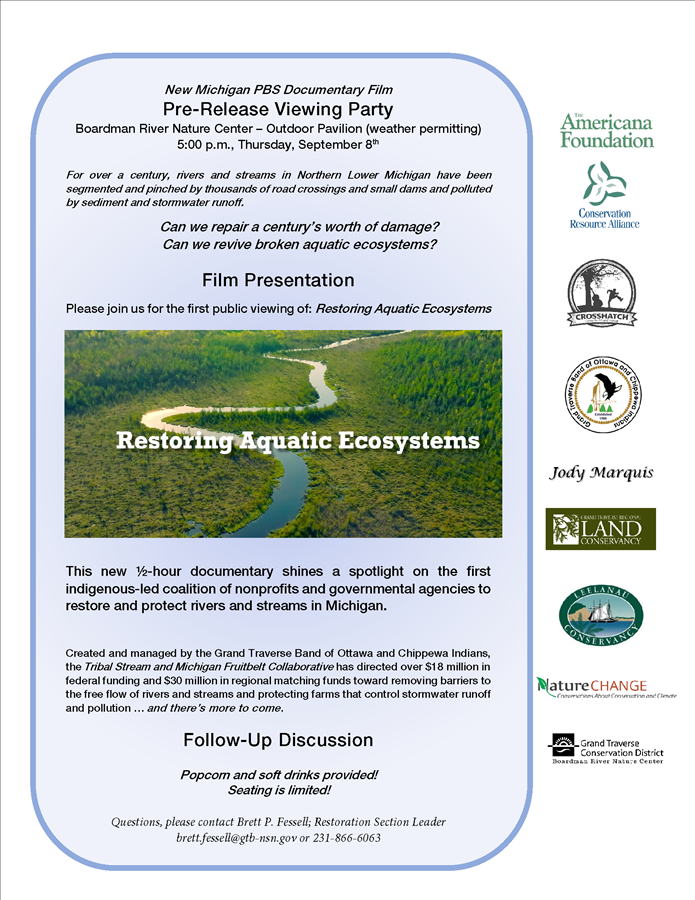 For over a century, rivers and streams in Northern Lower Michigan have been segmented and pinched by thousands of road crossings and small dams and polluted by sediment and stormwater runoff.

Can we repair a century's worth of damage?
Can we revive broken aquatic ecosystems?

Film Presentation
Please join us for the first public viewing of: Restoring Aquatic Ecosystems
This new ½-hour documentary shines a spotlight on the first indigenous-led coalition of nonprofits and governmental agencies to restore and protect rivers and streams in Michigan.
Created and managed by the Grand Traverse Band of Ottawa and Chippewa Indians, the Tribal Stream and Michigan Fruitbelt Collaborative has directed over $18 million in federal funding and $30 million in regional matching funds toward removing barriers to the free flow of rivers and streams and protecting farms that control stormwater runoff and pollution … and there's more to come.
Follow-Up Discussion
Popcorn and soft drinks provided!
Seating is limited! Questions, please contact Brett P. Fessell; Restoration Section Leader brett.fessell@gtb-nsn.gov or 231-866-6063